The Story of "How London Telecom Started"
click thumbnails to view pictures larger
click underlined links throughout text for definitions & more information
Where to start the story? .....It really goes back to when I was a young boy of about 7 or 8 years old, in Sarnia, Ontario. My mom & dad had bought my brother Ron & I, a set of toy Remco phones.

I had great fun with these...we hooked them up & had fun playing with them. One day at school I had told a friend about them...he wanted to come over to see them. I started to show him how they worked, but you guessed it...they wouldn't work. Boy was I annoyed....my friend had come over specifically to see these so called phones....now what? I took the phone that didn't work out to the kitchen for my mom to fix. She said, "you'll have to wait until your father gets home from work". That wasn't good enough for me.....my friend was here to see the phones & I wanted them to work. Upon my insistence that she fix the phone, my mom reached into the drawer, took out a screwdriver & said to me, "here, see if you can fix it yourself". She then went back to preparing dinner. I had no choice....either I fix the phone, or my friend leaves & we are both disappointed. I opened the phone up....lo & behold.....there it was....the problem....a screw had come loose & a wire came off. I put the wire back in place, tightened the screw down & to my amazement, the phone now worked. Talk about a thrill.....it felt so good that I had fixed it.....me!
That got my interest in telecommunications started. A couple years later my dad bought me some antique phones & an old switchboard, which I used to hook up friends on my street with our own private phone system.
With the neighbour's permission, Rob & his friends buried wires for their neighbourhood telephone system along the fence line in the above picture.
One Saturday, my father introduced me to his good friend Graydon Baines, who was manager of the Bell Canada office in Sarnia, ON. Graydon arranged to have one of his employees show & teach me that Saturday afternoon, how the entire Bell local & long-distance phone system worked, from a technical point of view. I read books about Alexander Graham Bell, other books on the invention of the telephone, & more books describing inventors like Thomas Edison, after that.
While I was at the University of Waterloo studying electrical engineering, one of my co-op work term jobs consisted of installing the old style mobile phones in cars. Another co-op job had me working at Northern Telecom in the hands-free telephone department. A third job was working for Falconbridge, in Sudbury, ON, at a nickel mine in the electrical shop, including such duties as fixing miner's lamps & maintaining the underground phone system.
Once out of university, I obtained my license to sell real estate & did that for 16 years. I studied further & received my license to have my own office as a Real Estate Broker. I was annoyed at the high cost of long-distance calls at the time in 1988 & was spending $100 - $150/month in my business calling my customers in the nearby towns of London, ON. I thought there must be a better way.......sure enough, there was. I was spending the largest part of my long-distance budget calling Strathroy & realized that the town of Mt Brydges half way between London & Strathroy was local to both London & Strathroy. A light went on in the ol' noggin. Hmmmm...why couldn't someone call into Mt Brydges on a local call, then somehow dial out from Mt Brydges to Strathroy, also on a local call.....bingo....no long-distance charges. That was truly one of those "eureka moments". When I called Bell Canada, they said...."you can't do that". I said...."where does it say that?" They said...."in the tariffs". I said " where are the tariffs?". They said "at the Bell office downtown". So, I spent all afternoon looking through the binders, getting nowhere. The clerk there took pity on my, gave me a chair to sit down & asked me what I was looking for. Once I told her my request, she said, "that's in the exchange tariffs".
As it turned out, what I wanted to do was legal, & to my surprise, I could share this service with others under a "sharing group agreement", as long as everyone signed for joint & several liability, meaning, that everyone would be on the hook for the cost of the phone lines if I failed to pay. At the same time, I had read about how Ed Jarmain of London, ON setup the first cable system in Canada to share TV signals with his neighbours.....why couldn't I setup a sharing system for long-distance telephone service?

I went ahead & installed in Mt Brydges, 10 roll down lines to receive calls & 10 lines to dial out on & rented 10 "call diverters" to connect the incoming to the outgoing lines. Now it was time to do my research....how many people could use this system without bumping into each other & getting busy signals? I went door to door & offered a free trial....make as many calls as you want over a 30 day period into London & keep track of the busy signals. Well after the 30 days I tabulated everything up & it turned out to be 10 to 1....with 10 lines, I could have 100 people using the system with less than a 10% busy signal rate. I signed all these people up in the sharing group & did the same system from London to St Thomas, & London to Exeter....all areas that, at the time, were long-distance. I had over 200 sharing group members, each paying $15/month. During this time period, the CRTC was holding hearings to decide if & how it would allow long-distance competition. I followed everything very closely & read up on all the proposed rules. In 1990, competition was allowed & I had to decide how & where I would build my long-distance business. The first thing I did was tear up the sharing group agreement & convert my 200 people into long-distance "re-sale" customers. I had no idea where I should start building the business.
"re-sale" competition started in 1990
At about the same time, I had been requesting various documents from the CRTC in regards to rules & regulations of the new re-sale market that was being implemented. The UPS truck pulled up to my place a few days later & dropped off a tube package that I thought had the documents that I had asked to be sent. As I started looking through & reading the information, I discovered that this was not the correct information I requested.....it was an executive summary of all of Bell Canada's territory.....it showed the dollar amounts of the long-distance spending in every one of their markets. Once I realized that this had been sent to me by mistake, I immediately returned it to the CRTC. Obviously, I now had the advantage of knowing where I should set up business......the Hamilton - Toronto calling corridor was the most lucrative market in Bell Canada territory. This was Big Break #1.
It wasn't long after that, that I set up an in/out system in Oakville, which was the jump-through point between Burlington & Toronto. Instead of using call diverters, I was able to subscribe to the Bell Canada Centrex system & not have to buy any equipment.....I simply leased all the switching services from Bell. That was the easy part....the harder part was getting customers. In 1990, although re-sale of long-distance services was now officially allowed, most people weren't aware or didn't believe it. I was now paying $800 monthly for a system & was offering a great deal - $29.95 / month for unlimited calling to Toronto, but I couldn't get anyone to take my service....they all thought it was a scam. I would spend the day calling people & knocking on doors, but not a soul would take my service. It started to get discouraging...day after day....picking up that 110 lb telephone receiver, only to be told no, no, no and no! I was starting to get to the end of my rope after weeks & weeks.
One day, while driving in from London to Burlington, I was scanning the AM radio band....not sure why, because I usually listen to FM. I happen to stop on a station coming in from Fort Wayne, Indiana, with the call letters WOWO. The host was saying "for the benefit of all those entrepreneurs who have just tuned in, could you please summarize what we've been talking about this morning, in just a few sentences". The person being interviewed said...."3 things...believe in yourself, believe in your own ideas, and last, but most importantly, stick-to-it-ive-ness". He went on to say "most people quit or give up just before things are ready to break open.....so many times, after all the hard work they put into their business, they get discouraged & give up.....if they can just hang in there one more day, one more week, I promise that something will happen...they will get that break they so desperately need". I pulled the car over to the side of the road & wrote the 3 ideas down on a piece of paper & stuffed it in my wallet.....I felt this guy was speaking right to me.
After making calls all day, again nothing...& to add insult to injury, my car broke down.....it cost several hundred dollars to get it fixed in the local garage. I kept at it for several more days.....each time I would feel down, I'd pull that paper out of my wallet & carefully read it. It was getting tougher & tougher to drive all the way to Burlington & not sign up a single customer. They would hang up on me, they would swear at me.....they would ask me to leave their office....I could not understand why no one wanted this service...many people were spending $300 - 400 monthly, calling Toronto.....especially sales people & my service was only $29.95 monthly. Nevertheless, as difficult as it was, I remained persistent in my efforts.
Again, the biggest problem was that the average person & even most business people didn't know that long-distance competition was now allowed. People who were aware, wanted to wait for a while first & see how things were going to "shake out" before they would be willing to sign up with anyone other than Bell. The following week, on the Monday morning, I received a call from a writer, Wade Hemsworth, at the Hamilton Spectator. He had seen my ads in the paper & wanted to know more. He asked me point blank....."is this a scam?" I said "no, it's for real". He asked me to tell him all about how I got started & so on. At the end of the interview he said, "would you mind if I run a story in the paper?". This was Big Break #2.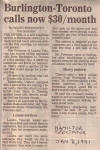 When the article appeared in the paper, the phone started ringing off the hook & practically everyone who called wanted to take the service. What a change....I couldn't believe what was happening....most people didn't even let me finish my sales pitch.....they just said "sign me up". What a turnaround....after 2 -3 months of absolutely nothing, then in one day everything changed. What a feeling. I was making one appointment after another. The newspaper article legitimized to the public everything I had been saying. After a couple days of taking calls, I was now booked for 3 or 4 weeks solid, to meet with the new customers, pickup payment & install auto-dialers. My calendar just kept getting backed up more & more & out of shear necessity, I had to hire first one installer, then another, then another. It just seemed every customer we installed told others & it mushroomed. From that one newspaper article, at least 300 people took advantage of the service & within a few months, there were over a 1,000 customers. This was the kick start that was needed......this was that big break that the fellow I was listening to on the radio was talking about. The phone never stopped ringing after that...we sold more & more customers & had to hire more & more employees.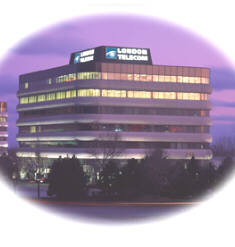 For a more detailed account of this & the rest of the story:
mentoring website index:
read - "The Story of How London Telecom Started"
view - "Awards & Plaques received by London Telecom"
view - "Magazine, Newspaper & Other Articles on London Telecom"
view - "Selected London Telecom Advertising Copy"
view - "London Telecom VIDEOS"
read - "London Telecom - Opportunity out of Adversity, Discontentment & Need"
read - "The London Telecom Group - Building a History of Excellence" - book written by Roy Tester
read - "First taste of being an Entrepreneur"
to Rob Freeman - mentoring young Entrepreneurs