Rob's Home Page
web page/site under re-construction
click on underlined links for more information & full picture/video albums
the TV series "MVP" came to Avalon Tues/Wed, Oct 2/3, 2007, for the "Gallery Shoot" - the show aired on CBC Jan - Mar 2008
Rob's 12,900 sq ft home "Avalon", about 12 minutes NE of London, ON, Canada, overlooking the scenic Thames River, is available for Bed & Breakfast. It's located only 30 minutes from Stratford, ON, home of the famous Stratford Theatre. The town of St Marys, known as "Stonetown", is just 12 minutes away.
new direction - just posted Sun Mar 23, 2008 - stays being offered at Avalon for those fighting cancer
(web page/site under re-construction)
click here for more info about Avalon, B&B, and the virtual tour
the grounds at Avalon / Plover Mills Farm featured in a TV commercial (video)
view pictures from the "Hunt" at Plover Mills Farm / Avalon
read about Avalon being part of the Homes of Distinction Tour, May 26 - 27, 2007
view A Channel TV video clip from Fri May 25, 2007 previewing Avalon for the Tour
click thumbnail to view larger
Avalon written up in Sat May 19, 2007 London Free Press "micasa" homes section for May Court's Homes of Distinction Tour
view pictures from the Tour taken at Avalon May 26 - 27, 2007
read about Rob's mentoring program for would-be, new, or young Entrepreneurs - "Paying it Forward"
read - "The story of how Rob started London Telecom"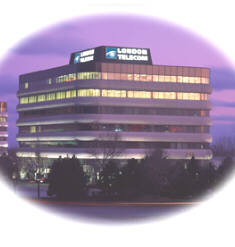 Rob Freeman
view an article in the Stratford Gazette profiling a new book on Stratford, in which Rick & Joan Bain and Rob are business partners
Ballooning Events:

Gatineau Balloon Festival Sept 1st - 4th, 2006

London Balloon Festival Aug 3rd - 7th 2006

Balloon Weekend at Rob's June 30th - July 3rd 2006

The Brokeback Truck & 2006 Summer Tour

Plover Mills Farms (next to Avalon)

view pictures - Pumpkinfest - Sat Oct 27, 2007

Rob, Mark, Zan Freeman & Friends Ski Trip - Big White, Kelowna, BC March 2007

Mark & class - "the School Prom" - Sat May 26, 2007

Mark Freeman - view Mark's website - pictures & YouTube videos

pics & video - Mark's High School Graduation - Fri Nov 2, 2007

Hawaii Cruise - Ron & Gabi, Rob - Apr 2007

Freeman Machine & Tool - Zan Freeman

new Haas CNC lathe recently added to the shop

pics & video from Gopher Dunes - Sun Oct 28, 2007

last race of the season

Zan's High School Graduation 2006

snowmobile trip - Cochrane, ON - Feb 2007

website produced & maintained by Rob Freeman

updated Sun Mar 23, 2008 - 9:00 PM EDT

other links: